Spire Removals is dedicated to providing the highest quality services for removals and storage, both near and far!
Whether you are moving within the same country or relocating abroad, Spire Removals has it covered. We pride ourselves on delivering bespoke customer service and advice from start to finish.
Wherever you're looking to move to, we have a friendly and professional team that we use for all of our jobs, who will go above and beyond to meet your expectations. Contact us today to discuss an upcoming move or storage enquiry and we will get back to you.
Salisbury, Wiltshire
Based in Salisbury, Spire Removals is a family run business with 20 years' experience under our belts. We are easily accessible from the surrounding towns of Wiltshire, Dorset, and Hampshire. Our aim is to make the removals process as stress-free and uncomplicated as possible. We are proud to service the local community and can help you wherever you're planning on moving, whether it's just a few streets away or further afield.
Our storage facilities in Salisbury are suitable for short and long-term use and for personal or business items. We will recommend one of our tailored storage solutions based on your requirements which range from internal crate storage, container, and full access self-storage. We also offer additional services such as transporting special items for events, shop/office relocation and specialist antique item packing and moving.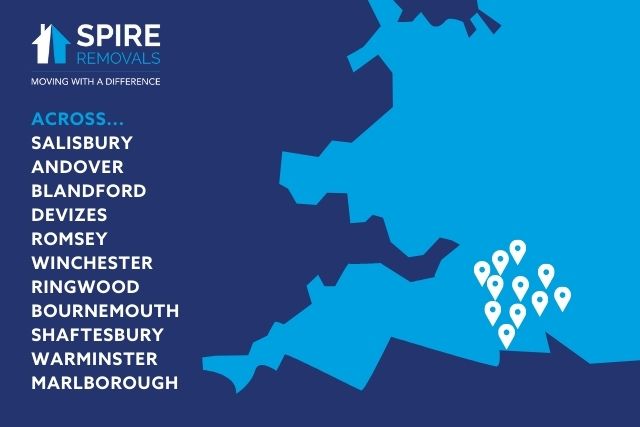 Contact Us
Romsey – 01794 330 130
Winchester – 01962 670 174
Ringwood – 01425 200 036
Bournemouth – 01202 001 589
Shaftesbury – 01747 440 349
Warminster – 01985 800 412
Marlborough – 01672 550 391
If you call us using your local number this will connect you to our Head Office.
Hampshire, Wiltshire, and Dorset
We service all locations in Wiltshire, Hampshire and Dorset homes including Devizes, Swindon, Southampton, Basingstoke, Bournemouth. Our removals or storage process begins by discussing your requirements and coming up with an initial quote. Choose a removals package that is best suited to you, we provide an all-inclusive service or mix and match to decide which aspects of the move you want us to undertake. Total transparency and detailed planning are required to achieve a stress-free moving environment for our clients.
UK and Europe
We are experts in domestic, commercial, and European moves.  We have had numerous years of experience helping people to move and store their belongings with efficiency and ease. This is why we can always ensure the process is smooth sailing.
With European moves, we can manage the shipping, customs, and travel to ensure all your belongings are transported safely and securely. Our organisational skills and worldwide network mean that we can help with moves to countries we've never even been to before! Whether you're moving locally, nationally, or internationally, Spire Removals is here to help.
Start planning your move today.
We offer a range of comprehensive removal and packing services tailored specifically to your needs. From 'all inclusive' to a straightforward self-packing and pick-up arrangement, we've got you covered.