When it comes to storing your personal belongings safely and securely, look no further than Spire Removals.
Moving with Spire Removals and need a storage unit? We offer a range of storage solutions for anyone looking to store personal items before, during, or after your move. By storing with us you'll save yourself the time, energy, and stress of organising separate storage for your belongings. We're here if you need help transporting anything into your storage unit or require any extra protection for particular items.
Purpose-built storage solutions
Your one-stop-shop for all your storage needs
We have a choice of storage options, with something for everyone. We're here to make your life easier. All you need to do is let us know what you're looking to store and for how long, and we will recommend the most suitable storage unit for your needs.
Our reinforced wooden crates are a popular choice as they can be filled and loaded into our trucks on-location, transported to our monitored warehouse, and unloaded with ease. Our highly secure steel containers are suitable for customers that require a large, single storage space. Their outside location makes them ideal for loading and unloading items directly to and from a vehicle with ease. Finally, our full-access indoor self storage units are a highly flexible solution. It's suitable for customers who prefer to access their storage unit on a more regular basis. With no contracts or notice periods, storing with Spire Removals is as simple as it sounds.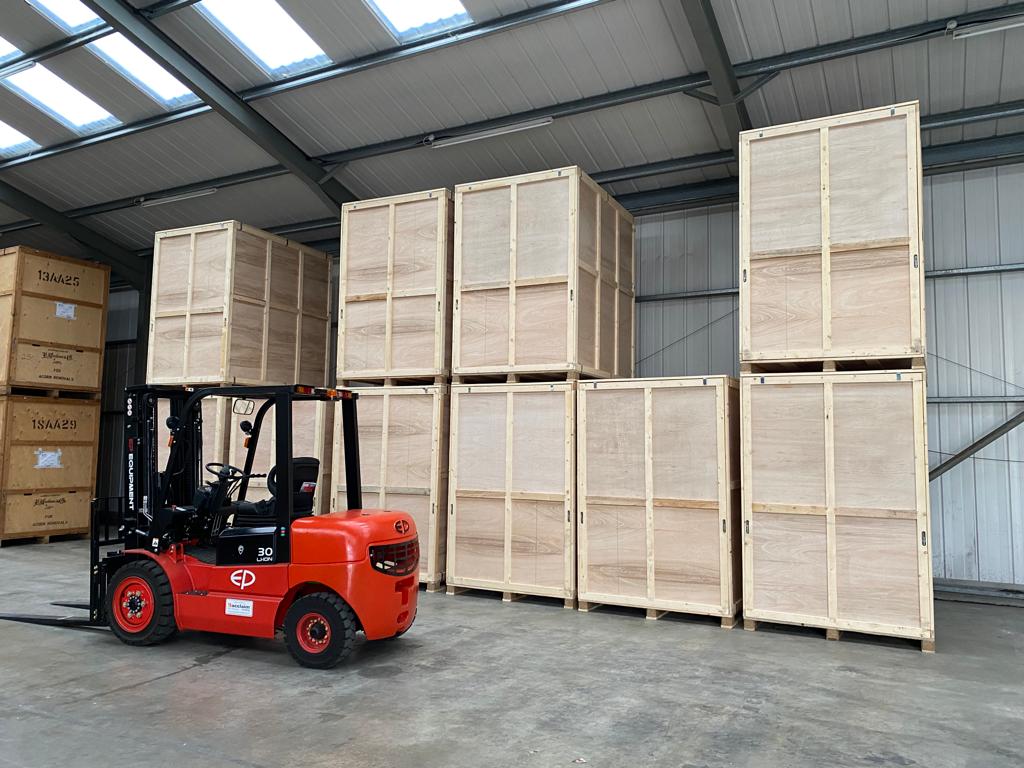 24/7 CCTV throughout
Our spaces are carefully monitored. 24/7 CCTV is in operation throughout for an extra layer of security. We also provide padlocks and keys free of charge with any space. We also offer a range of insurances, and you can pay weekly or monthly depending on your situation.
Various sized storage spaces
Our crates tend to be used for longer-term storage and are generally 7ft by 5ft. We also offer steel containers which are ideal for short-term use and are 8ft by 20ft. They're dry, damp-free and under constant surveillance. Our smallest self storage space is 10 sq ft and our largest is 200 sq ft. Prices vary depending on the size storage unit you are looking to hire and how long you need it for.
Easy access
For crates and containers, you're free to come and check on your items or add more belongings during your scheduled appointment. Our secure self storage units are open 7 days a week so that you can access your belongings any day you choose. You also have access to your self storage unit during opening hours.
Short & long-term solutions
We know life doesn't always go as planned. That's why we let you store your belongings for as little or as long as you need to. We also accept payment weekly or monthly and there's no notice period. You can remove your belongings at any time.
Dry & damp-free
All our storage spaces are either indoors or protected by steel. This means they are dry, damp-free, and most importantly safe for storing your treasured items. We also offer a variety of specialist packing services suitable for keeping any high-value items in storage.
Removals & packing services
Removals, packing and storage all come hand-in-hand. If we've helped you move home or you need help transporting any personal items into or out of your storage unit, removals are what we do. We'll carefully pack, transport and store your belongings for you.
Customer Reviews
"Such a great company to deal with from the first point of call to the removal men. Polite, professional and efficient."

Alexandra Brown
Average Google Rating     
"Excellent service – we used them for a staggered move with 2 weeks in storage between properties. They made it very easy and I cannot recommend them highly enough. Very professional & personable."

Caroline Plambeck
Average Google Rating     
"What can I say very professional, absolutely fantastic service and took all the stress out of moving. Would highly recommend to anyone moving and wouldn't hesitate to use them again"

Glyn Jones
Average Google Rating     
Start storing with Spire Removals
Fair, reasonable & competitive
All our prices are fair and bespoke. Let us know how much space you need or how many items you wish to store in your unit and whether you're looking for short or long term storage, and we'll get back to you with a free, no-obligation quote.